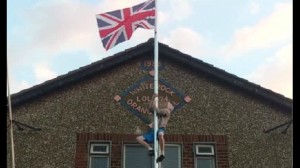 THE PSNI has made clear it is not responsible for taking down flags.
It was responding to reports that the policy on the role of police dealing with flags in Northern Ireland has changed.
On Thursday, media organisations reported that the PSNI was set to take down loyalist flags in the Ballynafeigh area on the Ormeau Road.
It was claimed they were to be removed because they deemed to be a breach of the peace as they were erected in a mixed area.
However, the PSNI said on Friday: "No single body or agency has the answer to all of the issues surrounding the flying or the removal of flags in Northern Ireland.
"The experience within policing shows that the approach most likely to provide for public safety and prevention of disorder is based on the principles of engagement between local communities working with agencies including local police and resulting in local decision-making.
"The removal of flags is not the responsibility of the PSNI and police can only act to remove flags where there are substantial risks to public safety.
"This is entirely in line with existing PSNI policy and practice and does not represent any change in that policy.
"We accept that this can lead to the perception of differing approaches in different areas, but this is the essence of local community resolutions in the absence of a wider consensus."