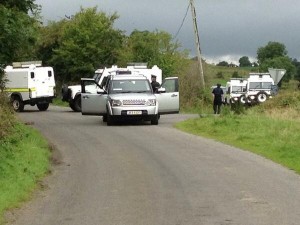 POLICE and Army Technical Offices are dealing with three separate security alerts in Lisburn, Co Antrim.
The latest alert is at Thiepval Barracks where a suspect object is being examined.
Shortly before that, police tasked the ATO to deal with a suspicious object found in a stolen car.
As a result, Mercer Street, between the Hillhall Road and Saintfield Road was closed by police.
Largymore Primary School has been evacuated as a result of the alert.
The first alert was sparked at Lisburn PSNI station after a suspicious object was brought to the building by an unsuspecting member of the public.
Officers became suspicious and called in the bomb squad and then evacuated the building.
PSNI officers shut down Barrack Street to the public and motorists. Police advise that the area should be avoided.