HASTINGS Hotels is gearing up to host almost 2,250 guests at four of its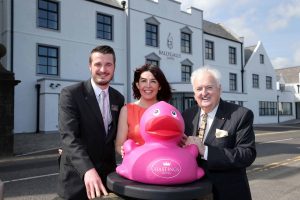 hotels next week.
Thy will be visiting Northern Ireland to enjoy the excitement of for the world's second largest bike race, the Giro d'Italia.
Sir William Hastings is joined by Group Marketing Manager Joanne Harvey and Taylor Kirk from Ballygally Castle to launch the groups' limited edition Giro d'Italia duck, a smaller version of which will be left in guests bedrooms for them to take home as a momento to their time in Northern Ireland for this momentous occasion.
Three of the hotels owned by the group are on the Giro d'Italia route – the Stormont Hotel, the Europa Hotel and Ballygally Castle – and along with the Culloden Estate & Spa will be offering Giro themed Pink Afternoon Tea as well as themed cocktails.
For further information go to www.hastingshotels.com