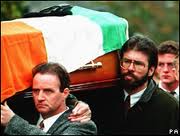 SINN Fein chief Gerry Adams has been dramatically arrested tonight over the murder 42 years ago of Jean McConville.
Adams, the former IRA boss in Belfast at the time of Mrs McConville's murder in 1972, is currently in custody at the serious crime suite in Antrim.
He is being quizzed by senior detectives from the PSNI's Terrorist Investigation Unit probing the mother-of-tens murder four decades ago.
Adams was arrested under Section 41 of the Terrorism Act and can be held for 48 hours before being charged or released.
The Louth TD has always denied involvement in the killing.
Adams said this evening: "While I have concerns about the timing, I am voluntarily meeting with the PSNI this evening."
His former Adjutant Ivor Bell was recently charged in connection with the mother's murder and abduction.
Bell was later released without charge.
Adams recently asked his solicitor to write to the PSNI to ask detectives if they wished to interview him about the murder.
In recorded interviews for the Boston Tapes, former IRA man and close pal of the Sinn Fein president, Brendan Hughes, said that Adams had given the order for Mrs McConvilles abduction and murder.