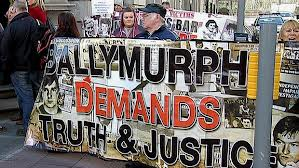 SECRETARY of State Theresa Villiers is expected to say whether she will set up an independent panel to examine the 'Ballymurphy Massacre' during which the Army killed 11 civilians in August 1971.
The families of the victims, shot dead by the parachute regiment in August that year, have been pressing Ms Villiers on the issue.
They want a seven-member panel to examine all documents and papers relating to the deaths.
It would be modelled on the panel that examined the Hillsborough disaster.
They have proposed that it would be chaired by former Northern Ireland police ombudsman Nuala O'Loan and funded by the British and Irish governments.
Members of the Parachute Regiment claimed they opened fire after being shot at by republicans during Operation Demetrius, when people suspected of paramilitary activity were interned.
A Catholic priest and a mother-of-eight were among those killed over a three-day period.
After an application from the families the attorney general directed the coroner to re-open inquests into the deaths in November 2011.