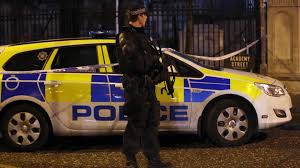 DETECTIVES are investigating an explosion at a north Belfast home last night.
It is believed a pipe bomb exploded outside a house in Carlisle Square just before 10.50 pm.
A man in his 20s, who was in the house at the time, was not injured during the attack.
Minor damage was caused to a door where the device had been left.
It is the second time the house has been targeted in less than a year.
Detectives say a pipe bomb device exploded at house last August.
Local people reported hearing a loud bang in the area on Thursday night and residents several streets away said it shook their windows.
One said: "It sounded a lot louder than just a pipe bomb."
Antrim Road CID are still trying to establish a motive for the attack.
Detectives have appealed for anyone with information to contact them on 101.