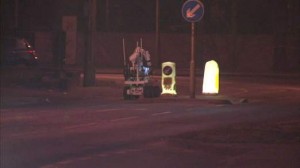 TWO controlled explosions were carried out during last night's security alert.
A number of homes were evacuated after a member of the public reported "suspicious objects" to police.
Several rural roads, including Hollyhall Road at Glenowen and Springhill Road close to Sheriff's Mountain in Derry, were sealed off during the alert and traffic diverted away from the area.
A PSNI spokesperson said two controlled explosions were carried and two items had been taken away for further forensic examination.