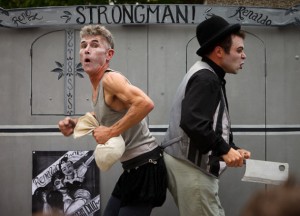 WHERE else would you see slapstick from San Francisco; tumbling from Tanzania; bicycle acrobatics from Belgium; candy floss from Kansas; mime from Mexico; and stilt-walking from Scotland?
These are just a few of the delights heading to Belfast this May bank holiday weekend, which were unveiled at the Festival launch held, appropriately enough, on April Fools Day at the Belfast Circus School in the city's Cathedral Quarter.
Attending the launch, Belfast Lord Mayor Máirtín Ó'Mulleoir said: "The annual Festival of Fools is a highlight in our city's cultural calendar. Running into its 11th year, it continues to grow in popularity and content, and this year looks set to be bigger and better than ever. There is something for all the family to enjoy and – with all of the events running free of charge over the May bank holiday weekend – I would encourage everyone to experience the fun and laughter on offer."
Now into its 11th year, the Festival of Fools kicks off with a weird and wonderful acrobatic comedy from Spanish company Capitan Maravilla who monkey around as they somersault over a specially customised Mini Cooper full of surprises. What follows is three days of comedy heaven with more than 120 street shows and 30 walkabout performances across Belfast's Cathedral Quarter and City Centre – all free of charge!
The Festival of Fools will be creating a unique short break holiday destination in the heart of the City Centre brought about by the complete transformation of Writers Square. This has been made possible through support from sponsors Translink who have enabled the installation of an urban beachscape with deck chairs; Punch and Judy; sticks of rock; giant seagulls; and an intimate theatrical experience deep in the belly of a 60 foot long inflatable blue whale! With a capacity of just 45 people, the Whale Show is a perfect piece of family entertainment featuring mermaids, pirates and a shipwreck – all in just 20 minutes.
Translink's Lynda Shannon said: "Translink is excited to be supporting the Festival of Fools and would encourage everyone to plan their journey by bus or train – simply click www.translink.co.uk. There are a range of discount travel tickets available to bring people into the City Centre with the Festival of Fools providing comedy performances to transport them into a world of laughter."
Lovers of slapstick comedy are in for a real feast of funny. Fraser Hooper will be bringing his much loved silent clown back to Belfast to engage in a boxing match which will leave you in stitches without laying a glove on you. Joe Dieffenbacher with his company Nakupelle will be presenting Trap, a comic masterpiece delivering immaculate split second comic timing combined with exquisite pratfalls.
A celebration of the folly of humanity, the Festival of Fools delights in the surreal and this year sees some real treats in the shape of a couple of 6 foot seagulls strutting their stuff around the streets in search of a spare scrap of food; a pair of pensioners practicing freerunning in an attempt to popularise a new craze – Grandparkour! The delightfully mystifying and downright absurdist comedy presented by Dansko Gida, alter ego of comedian Paul Currie returns to the streets in pursuit of truth and comic wisdom.
Will Chamberlain, Director of the Festival of Fools said: "This year we are looking forward to the biggest street theatre celebration ever seen in Northern Ireland. We have some of the world's finest modern clowns performing on the streets of Belfast cementing the Festival of Fools international reputation as an outstanding experience for audiences to enjoy a laugh."
With more shows than ever before, the Festival is running non-stop shows back to back in three of the key venues in Cathedral Quarter ensuring that the public can take their pick out of 40 shows each day free of charge. As well as all of these live performances, the Festival of Fools will be presenting an outdoor visual art experience with paintings on display and portraits done for free in Writers Square as part of the Great Artdoors staged in collaboration with creativechangeni who are arranging weekend residencies in miniaturised mobile artists studios.
Fionnuala Walsh, Head of Participatory Arts, at the Arts Council of Northern Ireland, said: "The Arts Council is pleased to support the 11th Festival of Fools. From portrait painters to live street performances and spellbinding magicians, there's some-thing for everyone at the Festival of Fools and with all events being free, I encourage everyone to go along to this fun, friendly and lively annual festival over the bank holiday weekend this May."
Fabulous performances from Northern Ireland artists feature heavily this year in the shape of aerial high jinks and acrobatics from Barren Carrousel; masterful manipulation from the amazing Magilligans; and shows from two groups of young people from the Belfast Community Circus.
Eddie Rowan, Events Manager for Northern Ireland Tourist Board, said: "The Northern Ireland Tourist Board is pleased to sponsor the Festival of Fools, an event providing international street theatre at its best. This entertaining and innovative festival brings Belfast alive with colour and laughter and offers a unique experience, not only for visitors to the city but locals alike."
Support for this year's Festival has come from a wide range of funders and sponsors investing in Northern Ireland's biggest free arts festival.
The Northern Ireland Tourist Board has joined Translink as lead sponsors demonstrating the growing attraction to travellers and visitors drawn by the unique family friendly event.
Major investment from Arts Council of Northern Ireland Lottery Funding and Belfast City Council have ensured that the Festival continues to to have the capacity to attract world class artists from Belfast and around the world to perform at this unique event.
Support from the Department for Social Development through the City Centre Events Fund has ensured that the Festival maintains a strong presence in Cornmarket and Cathedral Quarter.
As if 120 shows free of charge was not enough to bring you in to enjoy the Festival, there are some amazing meal deals with 17 cafes restaurants and bars who make up the Festival of Foods – a festival within a festival. Artists representing the Giro d'Italia Festival will be serving up the bizarre Bicycle Bistro and offering Comedy Waiters to audiences at bars and restaurants in Cathedral Quarter.
To find out more about the Festival of Fools, go to www.foolsfestival.com