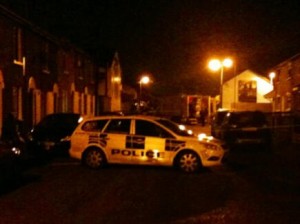 FORENSIC experts are examining an explosive device which was found near a railway line during a security alert in South Belfast.
Detectives from the PSNI's Terrorist Investigation Unit (TIU) made the discovery on Sunday evening.
Army technical officers were drafted in to examine what they described as a "crude, viable device" along with other related materials at the scene.
As a result of the discovery, the train line between Adelaide and Great Victoria Street had been closed during the examination.
The alert caused disruption to the first train out of Belfast to Dublin on Monday morning.
Translink say the line has now reopened.
The bomb discovery comes with days of two attacks on police by dissident republicans.
In the first incident, a booby trap bomb fell off the car belonging to a police officer as it drove along the Suffolk Road in Belfast.
Just over 12 hours later, police and civilians cheated serious injury when dissidents detonated a bomb at Belfast City Cemetery using a command wire.