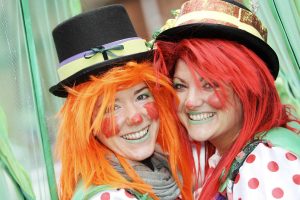 THE Northern Ireland Tourist Board (NITB) has put together a list of 10 exciting things to do in Northern Ireland over the next week (March 17-23).
For more details click on www.discovernorthernireland.com/events, visit your local tourist information centre or log onto http://www.facebook.com/discovernorthernireland
St Patrick's Celebrations, town centre, Downpatrick, Co. Down, March 17. The St. Patrick's Day celebrations will showcase Downpatrick as one of Ireland's most ancient and historic towns, with a re-enactment celebrating St Patrick's return to Ireland as a bishop, a Carnival Parade through the streets of Downpatrick as well as a host of other family entertainment.
Ballycastle & District Horse Ploughing Championship 2014, Ballycastle, Co. Antrim, March 17. The popular, traditional ploughing match has been taking place in Ballycastle for 100 years, attracting ploughmen from throughout Ireland offering a great day out for the whole family.
Keady Community Festival, Keady, Co. Armagh, March 17. Enjoy a St. Patrick's Day Parade through the streets of Keady for a great family day out as well as face painting, assault courses, dance and Irish classes, arts and crafts and much more.
Give My Head Peace, The Braids Arts Centre, Ballymena, Co. Antrim, March 19. Northern Ireland's most dysfunctional family are back with a brand new show for 2014 with topical satire, top class stand-up comedy from Tim McGarry and plenty of laughs.
Kimmie Rhodes, Ardhowen Theatre, Enniskillen, Co. Fermanagh, March 22. American singer-songwriter Kimmie Rhodes is a prolific artist who has recorded and released a total of fifteen solo albums as well as writing and producing three musical plays and has built a solid fan base in Northern Ireland over the years.
A Portrait of the Artist as a Young Man, Lyric Theatre, Belfast, March 18 – 22. James Joyce's 'A Portrait of the Artist as a Young Man' tells the story of Stephen Dedalus as he signals his need to escape the nets he claimed Ireland would trap him in before leaving his home to seek nourishment from other cultures.
A Boy and his Box, Limavady Theatre, Limavady, Co. Londonderry, March 20. Young adventurers should come along and hear the story of a boy, his box and his vivid imagination with live drawing, projection and quirky tunes celebrating the amazing world of a child's imagination.
Strabane Drama Festival, The Alley Arts & Conference Centre, Strabane, Co. Tyrone, March 20-28. The Alley Theatre will host Strabane's annual drama festival as the intimate venue comes alive with nine productions ranging from George Orwell's Animal Farm to Martin Lynch's The Chronicles of Long Kesh.
Waggy Races at Castleward, Castle Ward, Strangford, Co. Down, March 23. Northern Ireland's first canicross event, a cross country fun run where dogs and their owners sprint, jog or walk together. The 5km Waggy Races course starts at the Mansion following the trails towards the Lough and is open to dogs of all shapes and sizes.
Dr Robert Ballard – Titanic Discoverer, Titanic Belfast, Belfast, March 20. Dr Robert Ballard, the legendary Ocean Explorer who discovered the wreck of RMS Titanic, returns to Titanic Belfast hosting a public lecture.
ENQUIRIES: For further information, please contact Pauline Gormley of NITB on 028 9023 1221 or call Jen Higgins of Duffy Rafferty Communications on 028 9073 0880.