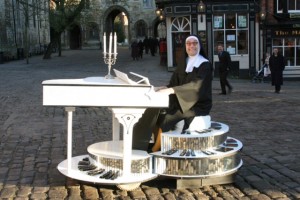 IT'S festival fever in Northern Ireland in 2014 and over the next few months alone, visitors have an action packed calendar of events to look forward to.
With music and arts, culture and dance, comedy and spoken word, Northern Ireland promises a year long programme of entertainment and the Northern Ireland Tourist Board (NITB) is encouraging people to visit one of the many festivals taking place.
"This year's festival line-up is bigger and better than ever with something to suit all interests and ages. With music festivals including the City of Derry Jazz and Big Band Festival, cultural festivals including the Cathedral Quarter Arts Festival in Belfast and historical festivals including the Brian Boru Festival in Armagh – there is something happening in all parts of Northern Ireland for people to enjoy," said NITB's Destination Officer (ROI) Pauline Gormley.
To give people an idea of what is coming up, NITB has compiled a list of up-and-coming festivals taking place over the next few months.
The Belfast Music Society brings a festival of world-class music and musicians to audiences from 14 – 16 February with the RMS 2014 International Festival of Music. The 2014 international festival takes the theme 'Music and Musicians from Northern Lands'. A superb line-up of world-class chamber music artists will take to the stage including the Grieg Piano Trio, Vertavo String Quartet, Truls Mørk (cello) and Olli Mustonen (piano), plus the Fidelio Trio (Ireland/N.Ireland) and special guest Patricia Rozario.
The 10th United Airlines Belfast Nashville Songwriters' Festival takes place from 28 February – 9 March with a celebration of the art of song writing and with more than one hundred artists performing over ten days with 50 events. Belfast will come alive to the sound of singer-songwriters from Northern Ireland and around the world from Americana to Blues and Rock and Country to Traditional Folk.
Féile An Earraigh takes place in Belfast on the run up to St Patrick's Day. This year from 14 – 16 March, there will be three main gigs. On 14 March, Stone cold Punk legends The Damned with support from The Outcasts, Suckin' Diesel and DJ Terri Hooley. On 15 March Beoga will take to the stage and on 16 March Lee Scratch Perry with support from Boss Sound Manifesto will entertain festival goers.
The 14th Belfast Film Festival is taking place in various venues across the city from 27 March – 5 April will showcase the newest and best in local and international talent including short films, a documentary competition, classic retrospectives, industry master classes, workshops and special events.
For the first time, Derry~Londonderry will play host to the International Pan Celtic Festival from 22 – 27 April attracting visitors from all over Ireland as well as the Celtic nations of Brittany, Cornwall, Isle of Man, Scotland and Wales. The festival aims to promote and strengthen Celtic languages, culture, music, song and sport
The Ancient Cathedral City of Armagh is the burial place of Brian Boru the High King of Ireland. On the 23 April 1014 Brian Boru was killed at the Battle of Clontarf and, as was his wish, he was buried in Armagh. 2014 is the 1000th year anniversary since his death and to commemorate this significant part in Armagh's history, the Brian Boru Festival will take place from 22 April – 4 May with a series of events planned for the city including a warrior re-enactment, Viking long-boats, ecumenical church services, a Viking village and musical performances.
The City of Derry Jazz and Big Band Festival takes place from 1 May – 4 May and music lovers can look forward for a jam packed programme with festival favourites along with some of the biggest stars and newest names on the jazz scene.
The Glenarm Tulip Festival, which takes place 3 – 5 May, gets bigger every year. The gardeners have planted over 8,500 tulips which will provide the most spectacular and colourful display for visitors. A range of local crafts, music and children's entertainment will also be available within the garden over the course of the weekend.
The dynamic and exciting Cathedral Quarter Arts Festival returns to Belfast from 1 – 11 May and promises to transform Belfast's city centre with a beguiling riot of live music, comedy, spoken word, visual arts and a host of other eclectic treats.
The streets of Belfast City Centre will come alive from 2 – 5 May to the sound of laughter and the sight of acrobatics, music and comedy as the Festival of Fools celebrates coordinated comedic chaos.
For information on these and other festivals taking place in Northern Ireland in 2014 log onto NITBs website www.discovernorthernireland.com