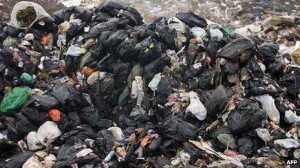 Northern Ireland Environment Minister Mark H Durkan has been called on to instigate an independent inquiry into the revelations in last night's BBC "Spotlight" programme.
It revealed that illegal dumping took place in the Campsie area of Derry despite concerns being raised with the relevant authorities.
The PSNI are involved in an investigation in the dumping of half a ton of waste – one of the biggest ever uncovered in Europe – at Gorticross.
The size of the dump can be put in perspective when considered the waste weighed more more than six Titanics and enough to fill several hundred Olympic-sized swimming pools.
Over £800,000 has already been spent in cleaning the site with the final bill expected to run into millions of pounds.
Calling for an independent inquiry, Derry MLA Raymond McCartney said the revelations were "extremely worrying."
He added: "The only way that public confidence can be repaired is through an open and transparent independent public inquiry. In the public interest, Minister Mark H Durkan should establish this inquiry without delay."
Mr McCartney concluded: "My colleagues on the Environment Committee will be raising our concerns about this issue at the first opportunity."