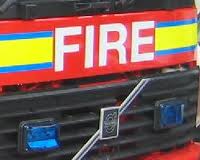 FIRE crews have rescued a man in his 60s after he fell down a hole that was at least 10 foot deep.
According the NI Fire and Rescue Service (NIFRS), the incident happened just before 10 pm Wednesday at Beresford Court, Coleraine.
Four fire appliances were called to the scene to help bring him to safety using a ladder and stretcher to get him out of the hole.
The man was taken to Causeway Hospital in Coleraine where his condition is described as stable.