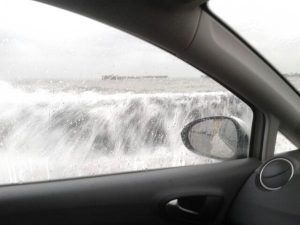 WEATHERMEN are warning Northern Ireland is for a stormy Christmas Eve.
They are predicting that gusting winds will hit speeds of up to 90 mph in some parts of the province.
A yellow 'be aware' warning has now been issued from midnight on Monday through until Tuesday morning.
However, this could be upgraded to a 'amber' warning on Monday as forecasters constantly check satellite charts for the path of storm fronts.
Rain, sleet and possible snow are also on the way for Christmas Eve as travellers head home for Christmas Day festivities.
The winds could effect air and sea travel and passengers are urged to check with their travel company before setting off in case of disruptions.
The weather is expected to calm by Christmas Day and Boxing Day.
Forecasters said conditions would ease off for Christmas Day and Boxing Day.