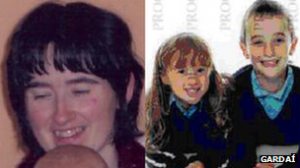 THE PSNI has located a woman and her three children missing from their home in the Republic since yesterday.
Fiona Gregg, 41, and her children Killian, eight, Elisha, six, and Derbhla, two, were last seen around 3 pm near their home at Ballyforan, County Roscommon.
Gardai believe the family were travelling in a light blue Nissan Almera saloon, registration 01 G 7051.
Officers believed they travelled to Northern Ireland and their details were circulated to the PSNI.
On Thursday morning, the family have now been found safe and well in Enniskillen, Co Fermanagh.
The Gardai issued a Child Rescue Ireland (CRI) alert on Wednesday afternoon as the children are under 18, they may have been abducted or there is a serious risk to their health.