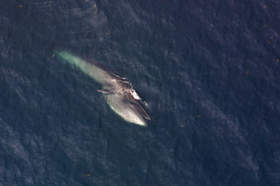 ONLOOKERS watched on Saturday as a rare deep water whale found beached on the north Antrim coast died.
The juvenile sei whale was stranded on a small beach beside Red Bay pier near Waterfoot early on Saturday.
The 20ft animal was thought to be too weak to float again.
Ian Enlander from the Irish Whale and Dolphin Group said dragging the animal back out to sea could have caused it serious injuries.
"Initially, the immediate response people were feeling was 'well, there's got to be something we can do'," he said.
"I felt my purpose here was really explaining to people what was happening and why we shouldn't be in the water tying ropes to its tail and dragging it off, because all you're going to do is cause more distress and spinal injuries to the animal."