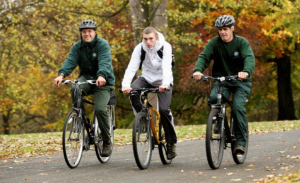 WORKERS across Belfast are being urged to pedal power to success by taking part in the Active Belfast Workplace Cycle Challenge.
The one month challenge, being delivered by Cycling Tourist Club, from 27 September to 27 October encourages staff to ditch their cars and take to two wheels.
As an incentive a team prize is on offer for the organisation that motivates the highest percentage of staff to take to their bikes.
Participants will register and log their cycle trips on the challenge website https://belfast.pleasecycle.com/register A dedicated smart phone app automatically charts your trips, totals mileage, calories burnt, CO2 and money saved over motorised transport.
Active Belfast forms part of the Belfast Strategic Partnership (BSP) in which participation in health-enhancing activities is a means to reducing life inequalities.
This multi-agency partnership of statutory, community and voluntary organisations, between Belfast City Council, Public Health Agency and the Belfast Health and Social Care Trust, aims to support more people in Belfast to be more active, more often.
Andrew Hassard, Chairman of Active Belfast, said: "This challenge is an ideal way to introduce more people to cycling. Instead of promoting it through traditional methods such as advertising and information, this challenge is about encouraging people to actually experience what it is like to ride a bike.
"Staff will be encouraged to record cycle commuting, leisure and utility cycle trips during the one month period. People will be able to earn BikeMiles to access rewards and discounts from a variety of retailers.
"So I would say – get on your bike and get pedalling!"
Seamus Mullen, the PHA's Head of Health and Social Wellbeing Improvement (Belfast) said: "Increasing personal levels of physical activity is easily achieved through incorporating an exercise element into the work commute and/or lunchtime routine. By walking or cycling to work, we can achieve/meet the daily recommended targets and enjoy the ensuing benefits to health and sense of wellbeing."
The Belfast Strategic Partnership was set up in 2011 by the Public Health Agency (PHA), Belfast City Council and Belfast Health and Social Care Trust to address the significant levels of inequality across the Belfast area.