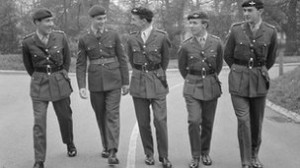 A senior officer who commanded British troops during the Bloody Sunday has been shot dead in Africa
Edward Loden (73) was shot during a robbery at his son's home in Kenya, Nairobi last night.
He is pictured second from right here.
A family statement described Col Loden as a "devoted family man" and said his death was a "brutal tragedy."
A colonel in the Parachute Regiment, he was in command of a unit which fired over 100 shots during the Civil Rights march in January 1972. Thirteen civilians were killed on the day and a 14th died from his wounds 15 months later. Over a dozen, many of them seriously, were injured.
His family said in a statement: "A retired British Army colonel, Edward Loden, was shot and killed during a robbery at his son's home in Langata, Nairobi, shortly after returning from dinner on Saturday evening, September 7, whilst he was on holiday visiting his son and family.
"Nobody else was injured in the attack which took place when a group of armed men forced their way into the compound."
The statement added: "Edward, married to Jill, father of Jamie and Will, was a devoted family man and proud grandfather of Oliver, Amelia, Joshua, Harry and Emily.
"Jill and her sons would like to say thank you to all the overwhelming messages of love and support from wider friends and family, and request that the family be given time to come to terms with this brutal tragedy."