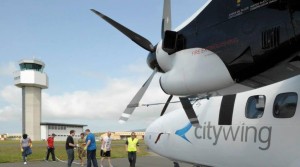 BY TIM HEDGLEY, TRAVEL EDITOR
A great many of us pass over the Isle of Man every time we travel to the mainland or further afield to Europe.
A couple of weeks ago I decided to visit Mann as its known and spend a few days in this very quaint part of the British Isles.
I travelled direct with Citywing (www.citywing.com) direct from Belfast harbour airport on one of their 19-seater aircraft. I am a hopeless claustrophobic but actually found this a very pleasant way to travel and the size of the craft did not bother me at all. Citywing offers exceptional fares on routes to the Isle of Man, Blackpool, Gloucester (M5), Newcastle and Jersey.
Belfast to the Isle of Man starts from £29.95, and they have up to 4 flights a day.
They also fly onwards to Blackpool daily, with up to two flights a day with fares starting at £59.95 for this one. Citywings timetable is specifically designed to provide flights at times customers actually want to fly at.
For business travellers, they offer a choice of early departures and late returns, while leisure passengers can take advantage of flights that are conveniently timed for onward travel with the leading low-cost airlines – meaning you can easily book with Citywing to escape to some of Europe's top destinations. For more see (www.citywing.com)
The Isle of Man has been inhabited since before 6500 BC and it was one of the six Celtic nations. It's a self-governing British Crown dependency which have their own government called Tynwold and the Manx people claim that this is the oldest continuously existing ruling body in the world.
They have their own laws and importantly their own taxation system, and interestingly it's the only country in Europe that does not have any debt!
So their local form of government could show the rest of us a thing or two about managing finances!
Due to the very generous tax laws, many celebrities still retain residency on the Isle of Man in order to benefit from their tax system.
The Isle of Man is 32 miles long and its widest point and approximately 14 miles wide it has an area of around 221 mi²The latest interim population census was completed in 2006 and it showed that it was home to about 80,000 people, of that; approximately 30,000 reside in the islands capital Douglas.
My previous impression of the Isle of Man was that it was dull, boring and a place that you should only ever go to once. Well I was indeed wrong.
The Isle of Man has a pace of life that is without doubt slower than most others, they don't rush they don't panic they just "let it be".
When you visit the doctor and he or she tells you: "not to sweat the small stuff" or "take a chill pill" what I think they mean is visit the Isle of Man. As soon as you step of the plane your worries slip away, your heart rates starts to reduce and you feel a sense of calm invade your body.
I visited in the middle of September, the holiday season had all but come to an end and visitor numbers were starting to diminish, but it was none the less a nice time to be there. I stayed at the Empress Hotel, which is located right in the centre of the Promenade (www.theempresshotel.net).
The Empress commands a wonderful view of Douglas Bay and is a short walk from the town centre; it's a perfect place to stay whether visiting the Isle of Man for Business or Leisure.
Recently the hotel has been extensively upgraded and maintains its status as one of the best hotels on the Island. This impressive hotel boasts 102 bedrooms including 3 executive suites with separate lounge area, a number of executive sea facing rooms and a fantastic top floor penthouse overlooking the whole of Douglas Bay.
All of the bedrooms are fully equipped with the comforts of home. Luxurious en-suite marble bathroom, complimentary refreshments, LCD flat screen televisions, hairdryer, trouser press and Free Wi-Fi. Apart from great rooms and stunning views the Empress is also a great place to dine as well. With 3 different restaurants to eat in, you will be spoilt for choice. The Conservatory, located on the upper ground floor with spectacular views of the bay, offers a traditional à la Carte menu, including fresh locally caught fish and mouth watering grills. "Aroma" 'Eat as much as you Like Buffet' was clearly a hit with the locals as it was packed every night and the Piano bar.
Most of us will has seen a picture of the famous horse trams that run along the promenade in Douglas. The Trams are the world's oldest surviving facility and they started in 1876 and have run ever since (except the war years). The trams run between the Manx Electric Railway station, along Douglas Promenade to the Sea Terminal, a distance of just two miles and they are great fun and provide a very useful function.
The Isle of Man is a railway enthusiast's paradise the extensive railway system has plenty to offer. There are more than 60 official stations or stops on the network which provides a perfect opportunity to hop off and explore some of the Island's most stunning glens and coastal areas.
The Island also features a regular steam railway service, which is the longest narrow gauge steam line in Britain and was opened in 1874. The three-foot narrow gauge railway still runs with its original locomotives and carriages through the Island's charming countryside between the Island's capital and a range of destinations in the south.
If by now you have been left wanting more, then the Snaefel Mountain Railway is sure to quench that thirst. This unique Victorian enterprise, which is around five miles long, has been in operation since 1895 and is the only electric mountain railway in the British Isles as well.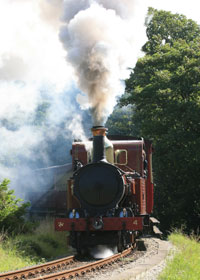 You can start your journey in Douglas or in the pretty village of Laxey on the east coast. En route you'll be able to see the Laxey glens and Lady Isabella – Laxey's water wheel – as well as The Bungalow, a famous TT landmark and only other stop on the line.
Once you have reached Snaefell's summit, at 2,036 feet above sea level, you may be able to see some, or all, of the Seven Kingdoms – England, Ireland, Wales, Scotland, the Isle of Man and the kingdoms of heaven and the sea. Unfortunately the day I visited the mist and clouds had come in and I could barely see my hand in front of me, but the summit café more than made up for that.
There are no roads to the summit of Snaefell but there are a number of paths that lead to the Bungalow, and Laxey, for those visitors who want to make their own way up or down.
You'll never be short of something to see and do during your visit to the Isle of Man whether you're looking for action packed fun or the opportunity to enjoy the peace and tranquillity of the countryside its all there for you. Its certainly a true adventure playground for lovers of the great outdoors, the Island's varied terrain and extensive coastline lends itself perfectly to those who want to get their blood pumping.
Whether you're a thrill seeker who wants to try your hand at watersports, a mountain biker keen to explore some of the best trails in the British Isles or a walker keen to scale the challenging coastal footpaths – you'll find an activity to suit. Don't forget to look out for the wildlife which calls the Island home! Of course, if you are there at the right time you can join in with the world famous TT races.
When you've exhausted yourself during the day you'll find an extensive year round programme of arts and cultural entertainment so you can relax watching a play, a live musician in session or watching the latest Blockbuster.
Located in the ancient capital of the Isle of Man, Castletown, this impressive fortress was once home to the Kings and Lords of Mann.
Cregneashheritagelaxeywheel Crown Copyright no to be reproduced without permission
The picturesque village of Cregneash was one of the last strongholds of the traditional customs, crafts, and skills, which characterised the Manx crofter's way of life.
Designed by the Victorian engineer Robert Casement, the wheel was built in 1854 to pump water from Glen Mooar, which was part of the Great Laxey Mines industrial complex.
The Island has a fantastic range of beaches to visit and there are simply too many to list. Visit http://www.visitisleofman.com for more information.
Everything taken into account my return to the Island after quite a number of years was enjoyable. I honestly thought I was going to be bored stiff, but it was really a pleasant surprise to find the island so enjoyable.
My taxi driver who, was originally from Northern Ireland and who took me back to the airport for my flight home summed it up for me. "I came here 30 years ago as a relief driver, I am so glad I stayed. It's a wonderful place to live, where quality of life really means quality life"
If you fancy a great break away from the humdrum, give the Island a visit you might be very surprised at how relaxing it can be.